Saturday November 2 2019 in Alte WU, Vienna
Start: 14:00
Liebe Leute!
Es ist wieder so weit! Am 02.11 wollen wir wieder mit euch reden, lernen und feiern! Wir laden zur 3ten Grund Für Feier in der alten WU. Grund Für WKR: Widerständig, Kreativ, Radikal! Diesmal wollen wir uns mit dem Thema Rechtsextremismus und welche Handlungsoptionen wir haben auseinandersetzen. Es wird Workshops, Vorträge und natürlich reichlich Musik geben. Nähere Infos folgen noch.
Bleibt widerständig und erscheint zahlreich!
Hier der erste Einblick in die Floors für den 02.11! Details kommen laufend //
~~~
Zudem gibts einen Bandfloor (Punk, Garage, Indie), einen Wortkunstfloor und ein Kino.
~~~
Nachmittagsprogramm
https://www.4lthangrund.jetzt/workshop-und-vortrage-workshops-and-talks-wkr2019-afternoonprogram-nachmittagsprogramm/
Kinderprogramm / Kids* program 14 – 17 Uhr @Klassenraum
Workshops & Vorträge/Lectures:
14 – 16h30 Ad busting (BBSC) – Workshop – german/deutsch @Hamsterrad
14h – 15h exopolitics, alien utopia & xeno solidarity – Vortrag/Lecture english/englisch @ HS1
14h – 17h30 Awareness & club culture – Workshop (max. 20 people/personen) – german/deutsch @Wohnzimmer
15h30 – 16h30 towards A Politics Of Consciousness – Acid Communism, 1960s Counterculture And Situationism – Vortrag – english/englisch @HS1
17h – 18h white noise!? – Vortrag – german/deutsch @ HS1
17h30 – 20h30 Kommunikationsguerilla – Workshop – german/deutsch @W92 / Hamsterrad
18h15 – 20h15 "how to demo rave" – Workshop – german/deutsch @Wohnzimmer
18h30 – 20h15 Eklektizismus als Annektierung. Faschistische Ästhetik, (Pop-)Kultur & die sogenannte "Neue Rechte"- Workshop – german/deutsch @Mensa
19h – 20h30 Entschwörungstheorien – german/deutsch – Vortrag @HS1
~~~
Eletronisches/Soundsysteme:
-)Basscave + Shake it & Break it (Drum `n`Bass) https://www.facebook.com/basscave.dnb/ https://www.facebook.com/ShakeItAndBreakIt
-)Basstrace (Dubstep, Dub, Bass) https://basstrace.com https://www.facebook.com/basstrace/?ref=page_internal
-)Hamsterrad + Viennalism (Deeper, progressiver Techno) https://www.facebook.com/HamsterRadMusic/
-)Panzerschokolade (Speedcore, Breakcore, Multicore u.ä) https://panzerschokolade.disktree.net
-)Tekno (wer den hostet erfahrt ihr vor Ort)
Soli geht an
Größerer Anteil:
> Nachttanzdemo https://nachttanzdemo.jetzt/
> Dessi-Deserteurs- und Flüchtlingsberatung https://deserteursberatung.at/
> AK Pliberk/Bleiburg https://www.no-ustasa.at/
> w23 https://wipplinger23.org/
> 4lthanggrund https://www.4lthangrund.jetzt/
Sowie auch an:
> A_Kuchl
> Presseservice Wien - Netzwerk freier Fotojournalist*innen https://presse-service.at/
> Antifa Sofia
> Infoladen https://infoladen.kukuma.org/
> Rote Hilfe https://rotehilfe.wien/
> ARGE Räume https://arge-raeume.org/
||
Dear everyone!
It's that time again! On the second of November we once more want to talk, lern and party with you! We want to invite you to our third party at the Alte WU. Our Motto this time is resistant, creative, radical!
This Time around, we want to look into right wing extremism as well as options and actions that can be taken to fight it. There'll be workshops, talks and, of course, lots of music.
Stay tuned for more infos!
We know you are curious, so here are the floors for the 02.11! Details will come bit by bit.
// Of course ther will be a bandfloor (Punk, Garage, Indie), a spoken word floor and a cinema
afternoon-program
https://www.4lthangrund.jetzt/workshop-und-vortrage-workshops-and-talks-wkr2019-afternoonprogram-nachmittagsprogramm/
Kinderprogramm / Kids* program 14 – 17 Uhr @Klassenraum
Workshops & Vorträge/Lectures:
14 – 16h30 Ad busting (BBSC) – Workshop – german/deutsch @Hamsterrad
14h – 15h exopolitics, alien utopia & xeno solidarity – Vortrag/Lecture english/englisch @ HS1
14h – 17h30 Awareness & club culture – Workshop (max. 20 people/personen) – german/deutsch @Wohnzimmer
15h30 – 16h30 towards A Politics Of Consciousness – Acid Communism, 1960s Counterculture And Situationism – Vortrag – english/englisch @HS1
17h – 18h white noise!? – Vortrag – german/deutsch @ HS1
17h30 – 20h30 Kommunikationsguerilla – Workshop – german/deutsch @W92 / Hamsterrad
18h15 – 20h15 "how to demo rave" – Workshop – german/deutsch @Wohnzimmer
18h30 – 20h15 Eklektizismus als Annektierung. Faschistische Ästhetik, (Pop-)Kultur & die sogenannte "Neue Rechte"- Workshop – german/deutsch @Mensa
19h – 20h30 Entschwörungstheorien – german/deutsch – Vortrag @HS1
Electronic/ soundsysteme:
-)Basscave + Shake it & Break it (Drum `n`Bass) https://www.facebook.com/basscave.dnb/ https://www.facebook.com/ShakeItAndBreakIt
-)Basstrace with Blvze + Danubian Dub + Shenron + Sub Audio (Dubstep, Dub, Bass) https://basstrace.com https://www.facebook.com/basstrace/?ref=page_internal
-)Hamsterrad + Viennalism (Deep, progressive Techno) https://www.facebook.com/HamsterRadMusic/
-)Panzerschokolade (Speedcore, Breakbeat, Extratone,...) https://panzerschokolade.disktree.net
-)Tekno (to find out who will host that just come over)
Soli-donations go to:
bigger shares:
> Nachttanzdemo https://nachttanzdemo.jetzt/
> Dessi-Deserteurs- und Flüchtlingsberatung https://deserteursberatung.at/
> AK Pliberk/Bleiburg https://www.no-ustasa.at/
> w23 https://wipplinger23.org/
> 4lthanggrund https://www.4lthangrund.jetzt/
also for:
> A_Kuchl
> Presseservice Wien - Netzwerk freier Fotojournalist*innen https://presse-service.at/
> Antifa Sofia
> Infoladen https://infoladen.kukuma.org/
> Rote Hilfe https://rotehilfe.wien/
> ARGE Räume https://arge-raeume.org/
/ / / / / /
Wir supporten / we support:
Join us on the streets! DEMONSTRATION !
!! Nachttanzdemo !!
31.10. 17h Karmelitermarkt https://nachttanzdemo.jetzt/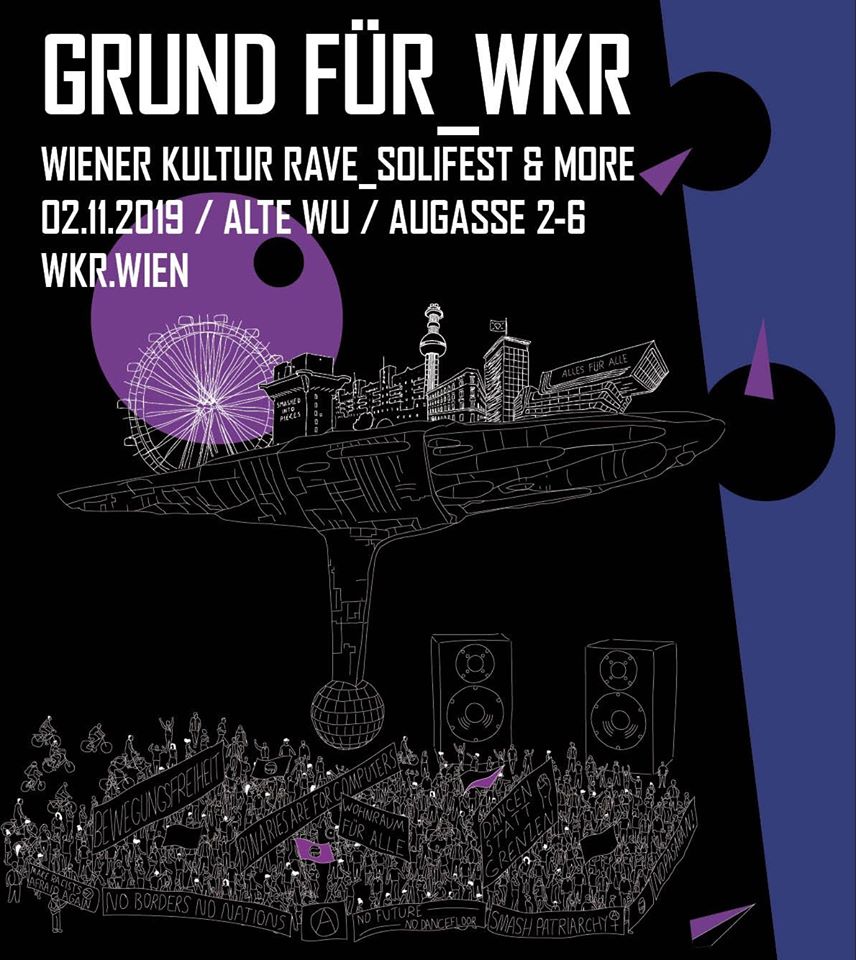 Cover Image