Bass Cave & Shake it and Break it – Live Special
Friday December 16 2022 in Viper Room, Vienna
Start: 21:00
Bass Cave & Shake it and Break it proudly present a night of Oldschool Drum and Bass DJ sets and various Live Acts!
LIVE ACTS (21:00-00:00)
►M.O.M.
M.O.M. (MouthOMatic) the current beatbox crew world champions, amaze the audience with their vocal chords. Check out their energetic and stunning performance - they will certainly not disappoint you!
► MATEJ
Matej is an avant-garde artist of live looping. He convinces with enchanting melodies mixed with heavenly vocals and rough fat drops. A one man show without compromise, only good vibes and love for the profession.
►KOLOTOURÈ
A band that delivers drumandbass, house, techno and funk without synth and turntable?
KOLOTOURÉ presents you a diverse mix of musical styles and turns your evening into a sound experience with an obligation to dance. Guitar, bass and drums are the chosen weapons of mass seduction of the trio to heat you up on the floor.
DJ SETS (00:00-06:00)
► I-WITNESS (BE)
I-Witness (Belgium), the talented DJ and owner of the famous Youtube channel, will join us with a 2-hours-long Oldschool DnB set. Since 2003, he has been playing at numerous clubs and festivals in Belgium (such as Starwarz and Tomorrowland). The DJ also performed internationally in Netherlands, France and Germany. Known for his versatile selection and fast mixing, I-Witness combines different flavours in his sets. Nevertheless, his passion for Oldschool Drum and Bass is infinite!
► ROONY (Bass Cave)
► PHUEL (Bass Cave)
► ZANIN (Bass Cave)
► TEHACE (Shake it and Break it)
► TYLDAK (Shake it and Break it)
For our last party of the year, we have planned something special. Numerous different acts will present a well-rounded evening with a mix of live and DJ performances covering the whole spectrum of Drum and Bass. We're looking forward to an amazing night and to party with you again! 
________
Entry: 12€
Doors: 20:00
Location: Viperroom
Landstraßer Hauptstraße 38, 1030 Wien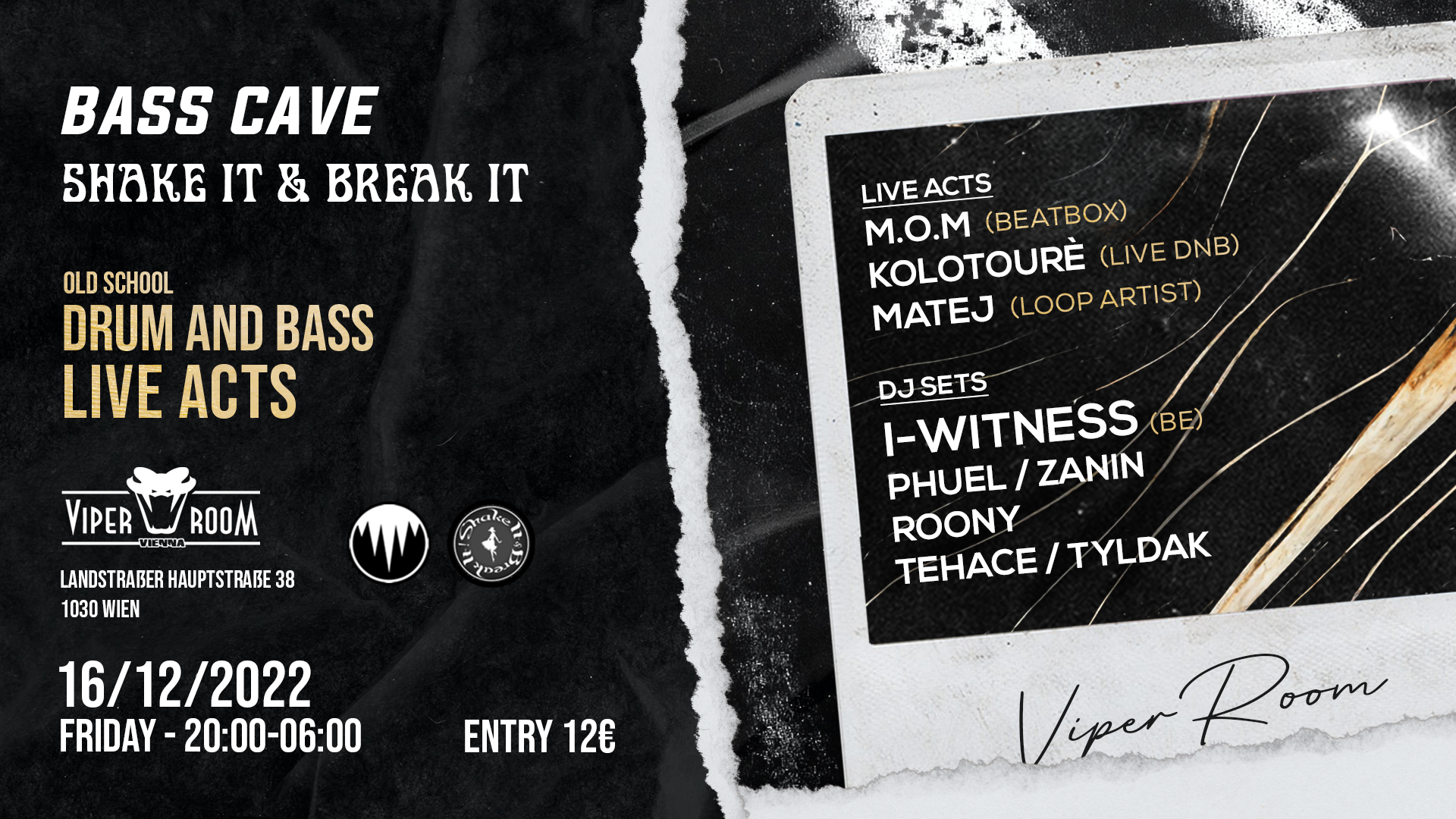 Cover Image